A playground for foodies, performing-arts fans and music lovers, you can find it all on H Street NE.
Restaurants, events, shops, bars, the arts – there's something for everyone on H Street NE. Anchored by the Atlas since 1938, the neighborhood has recently returned to its roots as an arts and cultural center. In early 2005, the theater was reincarnated as the Atlas Performing Arts Center, and new restaurants, bars and businesses began to follow. Today, H Street NE has turned into one of the nightlife centers of the city, with music venues, bars and plenty of options for late-night eats.
01
Catch a thought-provoking production
The community comes out in full force for the Atlas Performing Arts Center's award-winning, inspiring and topical productions. This National Register of Historic Places landmark features performance spaces, and in addition to plays, also exhibits affordable, offbeat music acts and collaborations.
02
Rock out at a live show
Catch a show at Pie Shop, which has a stacked selection of artists (and sweet or savory slices). Or check out Little Miss Whiskey's Golden Dollar for a neon purple-lit dive vibe with something different every night (think: DJ-fueled dance parties, karaoke or comedy).
03
Catch a coffee buzz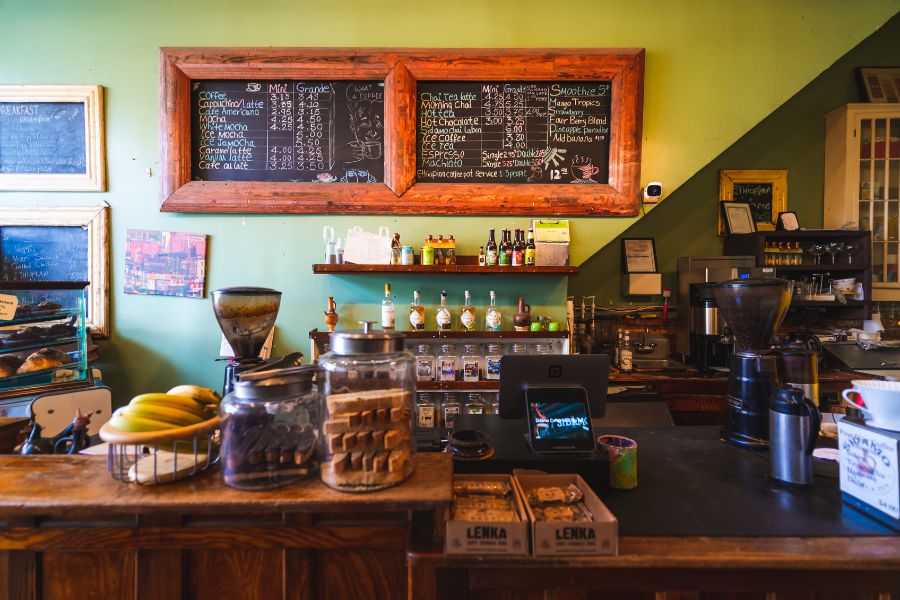 Start your day off by visiting Maketto, a 6,000 square foot communal marketplace that combines urban-inspired retail, a Southeast Asian sit-down restaurant and a cafe. Head upstairs for fresh java roasted in-house and pastries baked daily (or if the sun is shining, grab a seat at the outdoor courtyard). Cross continents for another unique coffee experience at family-owned Sidamo Coffee & Tea's Ethiopian coffee ceremony every Sunday at 2 p.m. The custom begins with an Ethiopian woman roasting ripe green coffee beans on a camp stove, and ends with an offering of the fresh brew to patrons.
04
Early bird gets the bagel
Early birds should visit Bullfrog Bagels, the no-frills spot boasts traditional New York-style bagels with smoked salmon, whitefish and pastrami. The pastrami, egg and cheese bagel sandwich has our mouths watering.
05
Discover colorful murals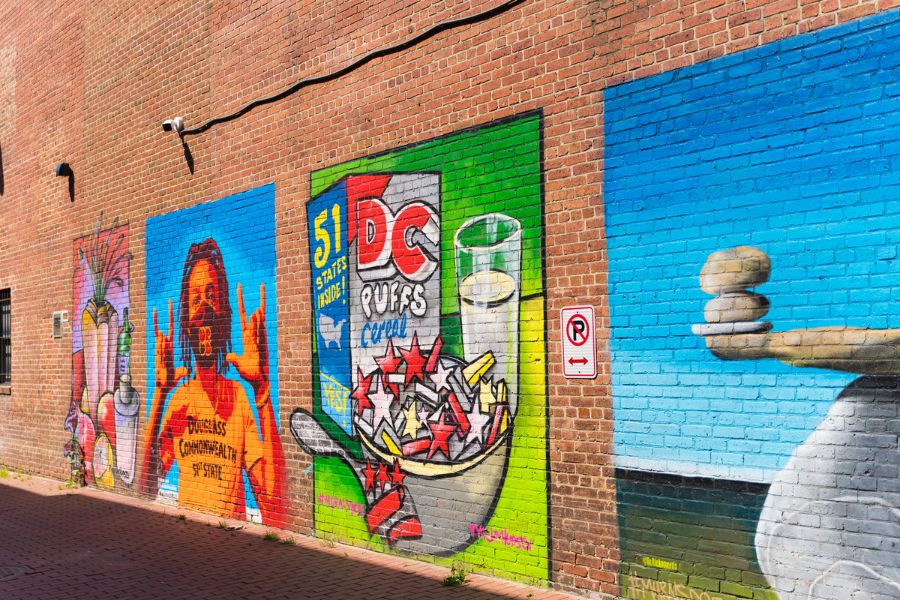 While murals can be found across the city, H Street is home to an "art allery" along the Linden Court alley. The 10+ works of art depict DC's history, culture and community. At the end of the block, the walls of Turning Natural boast another vibrant masterpiece.
06
Don't miss the H Street Festival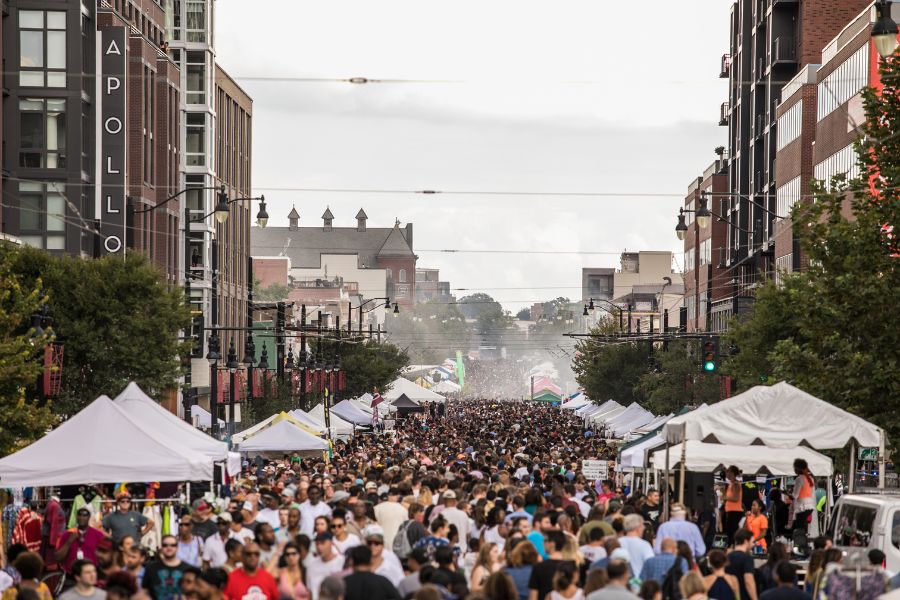 The neighborhood's largest event is the annual H Street Festival, which spans 10 blocks and attracts roughly thousands of patrons. Highlights of the fall event include musical performances and multi-cultural entertainment, in addition to art exhibits, for-sale crafts and an array of offerings from local food trucks and restaurants.
07
Share a dish at Ethiopic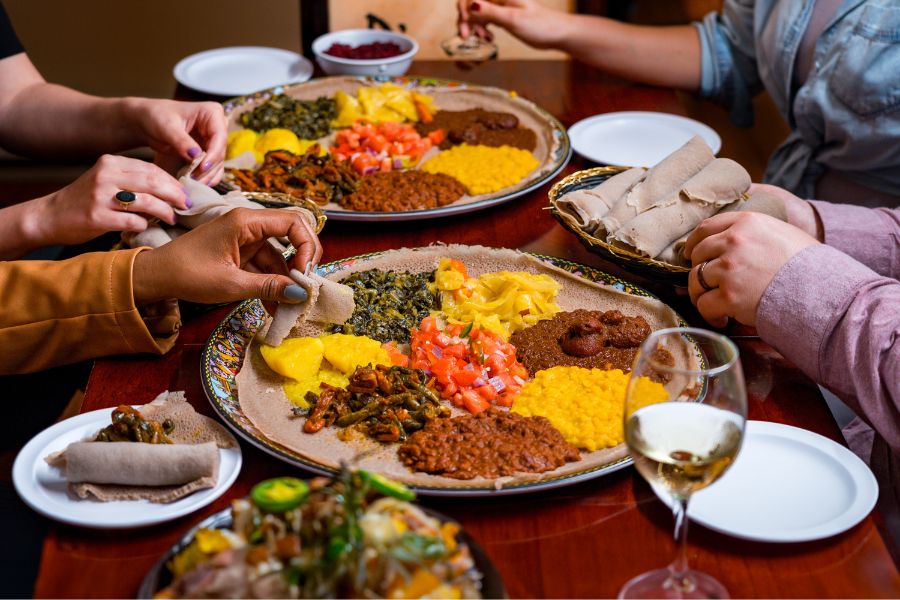 You'll find Ethiopic at the start of H Street's west side. The ambiance here is cozy, and the food is perfect for sharing. We suggest the Awaze Tibs: cubed prime beef sautéed in berbere sauce, onions, tomatoes and peppers. Don't eat meat? The vegetarian sampler is a must.
08
... Or walk across the street for veggie-centric comfort food
Sticky Fingers Diner, which sits across the street from Ethiopic, is a vegan, diner-style restaurant brought to you by Chef Doron Petersan (known for winning Cupcake Wars). The eatery will offer a distinctive dining experience featuring baked goods and veggie-centric comfort food. The cashew and almond Burrata is the first item on our list to try.
09
Get offbeat at Copycat Co.
Grab a seat upstairs at the small cocktail and dumpling bar, Copycat Co. Design elements include light fixtures inspired by birdcages and Chinese lanterns, a chalkboard listing all the drinks available and a large, scenic window looking over H Street. Owner Devin Gong mixes one of our favorite Moscow Mules in the city.
10
Hop on the streetcar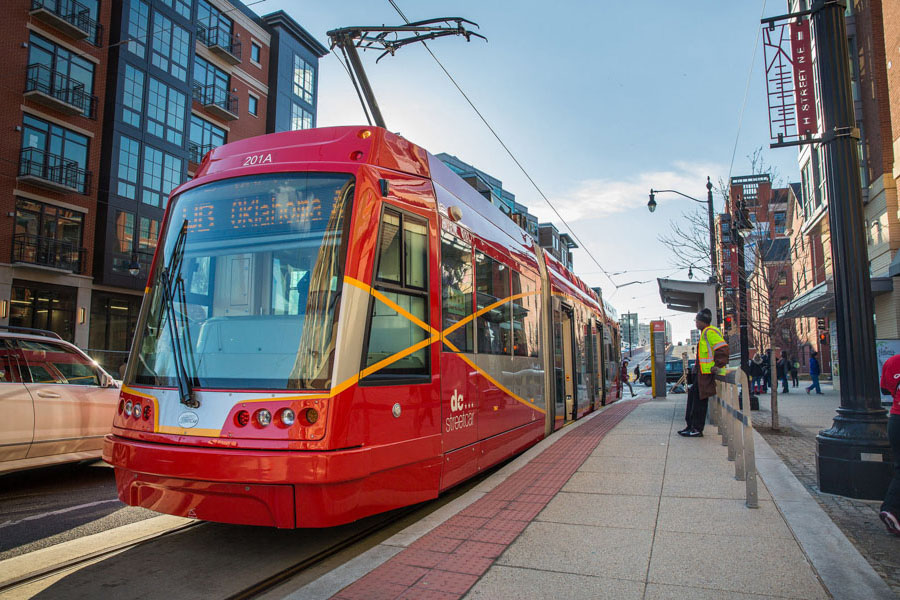 Travel up and down H Street on one of the city's first modes of public transportation. The streetcar is free and unique to the H Street corridor, running from Union Station to Oklahoma Avenue along H Street NE and Benning Road. Check online for the streetcar schedule, tracker and service alerts.