Our end-of-the-week picks for Dec. 3-5
We've gathered up some live virtual events and other fun things to do that are going on this weekend. You can also read the latest info regarding what's open and reopening in the District, as well as things to do during the week and throughout the month.

Looking for a local perspective delivered directly to your inbox every two weeks? Sign up for our "DC on the Go-Go" Local Newsletter to stay in the know.
Friday
Christkindlmarkt
Heurich House Museum's famed Castle Garden will again host the Christkindlmarkt throughout the first full weekend of December after a hiatus in 2020. Tickets grant you access to the arts and crafts-laden market featuring goods from dozens of vendors and the historic mansion, which will be decorated to the nines.
Tickets
Heurich House Museum, 1307 New Hampshire Avenue NW, Washington, DC 20036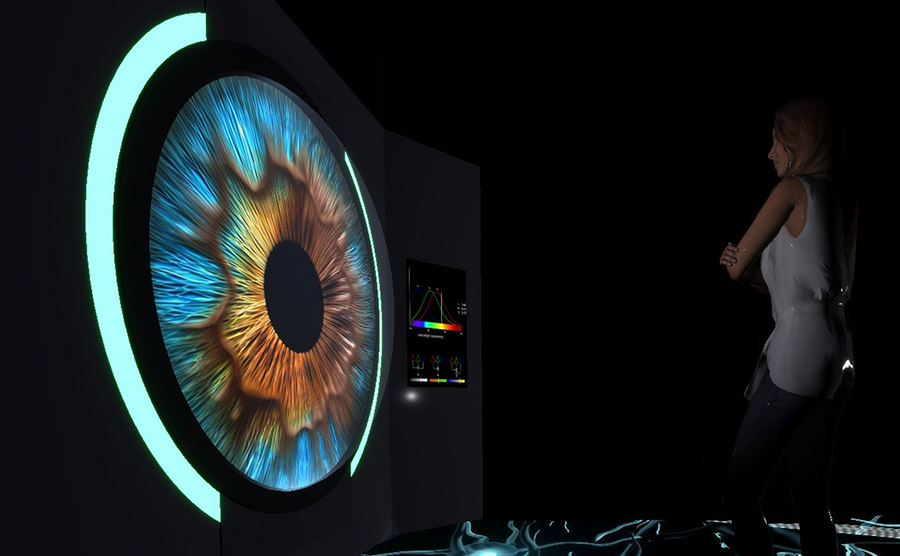 Artechouse
Life of a Neuron
This exhibit at ARTECHOUSE will take you through the thinking cells of the brain, diving into one of the world's greatest mysteries. Artists and scientists collaborated on this fascinating experience that will showcase how the brain shapes our experiences. Thanks to the Society for Neuroscience, ARTECHOUSE allows you to see a neuron from pre-birth to death, allowing for an immersive journey to the center of the mind. Book a discounted trip through the museum at the link for 'Tickets' below.
Monday – Thursday: 12-8 p.m. |  Friday – Sunday: 10 a.m. – 10 p.m. |  Tickets
Safety guidelines
ARTECHOUSE, 1238 Maryland Avenue SW, Washington, DC 20024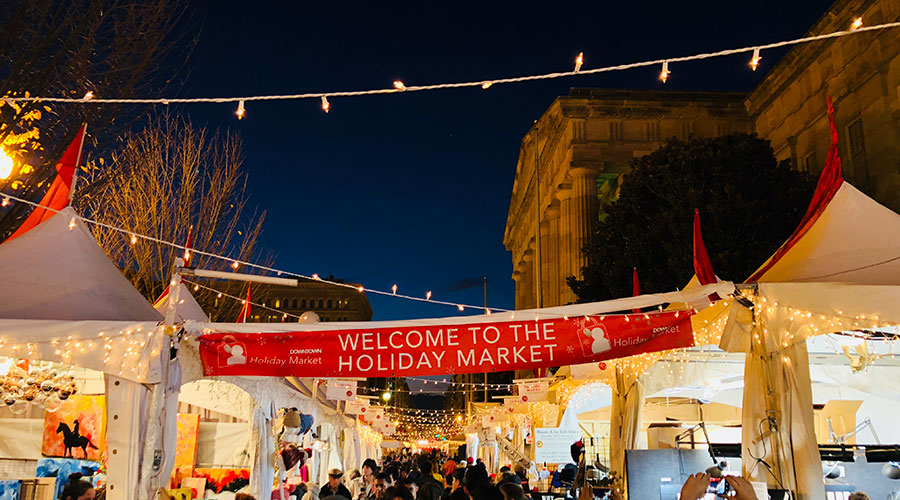 Downtown Holiday Market
Downtown Holiday Market
This free-to-frequent downtown bazaar is centrally located in front of the Smithsonian American Art Museum and National Portrait Gallery. The beloved market stretches across two blocks of F Street between 7th and 9th streets. Scope out eclectic wares from dozens of pop-up tents with seasonally flavored music performed live in the background. Locally roasted coffee and crafted-before-your-eyes mini-doughnuts inspire a cold-weather appetite, creating a holiday atmosphere you won't find anywhere else in DC. Please make sure to read the market's safety information before your visit. The market runs through Dec. 23.
12-8 p.m., daily |  Free admission | Safety guidelines
F Street between 7th and 9th Streets NW, Washington, DC
Dr. Seuss' How the Grinch Stole Christmas! The Musical – Final Weekend
The incredible stage show of Dr. Seuss' classic comes just in time for Christmas. One of the most revered holiday stories in American history comes to musical life. All the hit songs – "You're A Mean One, Mr. Grinch," "Welcome Christmas," etc. – will be performed, as audiences are again dazzled by Dr. Seuss' classic tale and the play's awesome costumes and scenery.
7 p.m. |  Tickets
The National Theatre, 1321 Pennsylvania Avenue NW, Washington, DC 20004
Saturday
Dupont Circle Holiday Pop-Up
Artists and makers will be situated in front of retail shops all over the Dupont Circle neighborhood for this annual event hosted by Historic Dupont Circle Main Streets. Approximately 50 vendors will sell paintings, scarves, chocolates, jewelry, pottery and additional holiday-themed items. Pop-up shops will feature imported food, fine art, shoes and more.
12-5 p.m. |  Free admission |  More info
 
The District Holiday Boat Parade
Each year, dozens of dazzling boats traverse the Potomac River from the waterfront in Alexandria, Va. to the The Wharf. You can observe the parade on Saturday free of charge, and there are holiday festivities to enjoy beforehand, including winter drink sampling, chances to meet Santa, ornament decorating and more. Prizes will be awarded to the most beautiful vessels, which begin their journey at 6 p.m., and fireworks will cap off the parade at 8 p.m.
6-9 p.m. |  Free admission
The Wharf, 1100 Maine Avenue SW, Washington, DC 20024
NPR's A Jazz Piano Christmas
Every year, National Public Radio (NPR) and the Kennedy Center join forces to bring outstanding jazz pianists together to perform their favorite Christmas classics for one night only. This holiday tradition has become a favorite in the District, so make sure to purchase your tickets well in advance.
7 p.m. & 9 p.m. | Tickets
The John F. Kennedy Center for the Performing Arts, 2700 F Street NW, Washington, DC 20566
Gay Men's Chorus of Washington, DC Holiday Show
Tap-dancing elves, a moving Christmas tree, snow and unforgettable choral renditions of holiday classics will all be part of the Gay Men's Chorus of Washington, DC's annual holiday show. The festive program will include songs like "Let It Snow! Let It Snow! Let It Snow!", "I'll Be Home For Christmas," and "Boogie Woogie Frosty". Expect performances from the full Chorus, soloists, all GMCW ensembles and the GenOUT Youth Chorus.
8 p.m. |  Tickets
Lincoln Theatre, 1215 U Street NW, Washington, DC 20009
A Strange Loop
Woolly Mammoth Theatre hosts this tour-de-force of a play from Michael R. Jackson. The Puliterzer Prize-winning production focuses on Usher, a Black queer writer writing his original musical while working a job he despises. The musical is about a … Black queer writer working on his original musical while working a job he despises. The young artist must wrestle with his own demons to pull himself out of the loop. Please note that the theatre requires proof of full vaccination against COVID-19 or a negative test from the last 72 hours.
8 p.m. |  Tickets
Woolly Mammoth Theatre Company, 641 D Street NW, Washington, DC 20004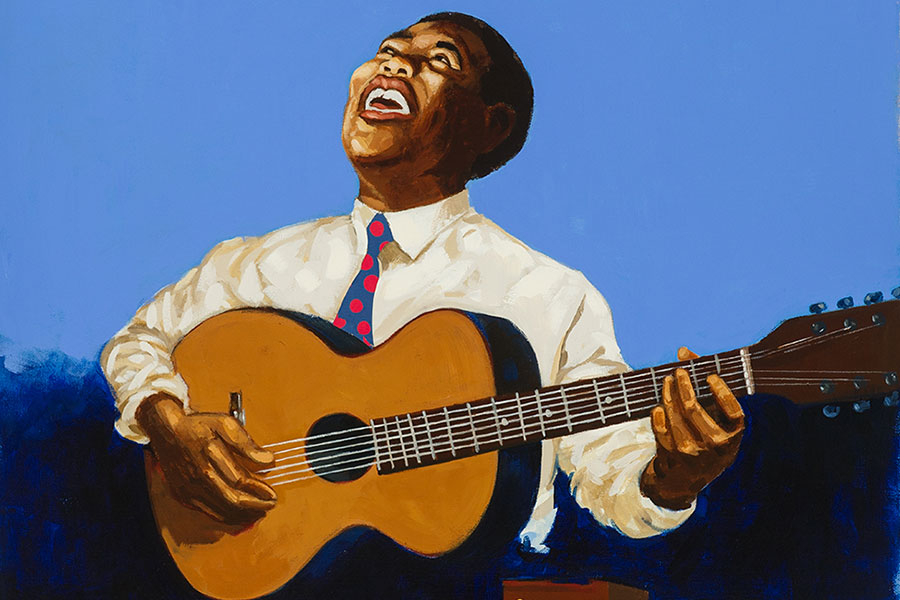 August Wilson's Seven Guitars
Legendary playwright August Wilson's fifth cycle play will take audiences to 1940s Pittsburgh, where blues singer Floyd Barton has decided to alter his lifestyle after an unexpected windfall has him thinking about second chances. Seven lives will be affected by Floyd's decision in a story injected with powerful blues rhythms.
2 p.m. & 8 p.m. |  Tickets
Arena Stage, 1101 6th Street SW, Washington, DC 20024
 
A Christmas Carol
Acclaimed actor Craig Wallace assumes the role of Ebenezer Scrooge in a lavish Victorian-style musical production of Charles Dickens' timeless classic, the staging of which is a time-honored holiday tradition in the nation's capital. Scrooge's riveting journey alongside the ghosts of Christmas Past, Present and Future is a joy even if you've experienced it a hundred times before – especially in one of the world's most historic theaters.
1 p.m. & 7:30 p.m. |  Tickets
Ford's Theatre, 511 10th Street NW, Washington, DC 20004
 
Sunday
Check out the National Christmas Tree
The National Christmas Tree is DC's claim to fame during the holidays, and for good reason. The gorgeous conifer lives in President's Park on the White House Ellipse, where it's surrounded by trees decorated with handmade ornaments from 56 U.S. states and territories and is accompanied by nightly musical performances throughout the holiday season. The display is free to visit and open from 10 a.m. – 10 p.m. beginning Saturday while the National Christmas Tree is lit each day from 4:30-10 p.m. This year's lighting ceremony takes place on Thursday, with the event set to air on Sunday on CBS.
10 a.m. – 10 p.m. |  Free admission
15th & E Streets NW, Washington, DC 20500
 
FUTURES
Smithsonian's historic Arts and Industries Building has opened its groundbreaking new experience. On view through July 6, 2022, FUTURES is the Smithsonian's first major building-wide exploration of the future and will temporarily reopen the Smithsonian's oldest museum for the first time in nearly two decades. The part-exhibition, part-festival will celebrate the Smithsonian's 175th anniversary with more than 150 awe-inspiring objects, ideas, prototypes and installations that fuse art, technology, design and history to help visitors imagine many possible futures on the horizon. Make sure to read our guide to the exhibit before you go.
10 a.m. - 5:30 p.m. |  Free admission |  More details
Arts and Industries Building, 900 Jefferson Drive SW, Washington, DC 20560
The Nutcracker
The Washington Ballet pulls out all the stops for this classic Christmas tale that features a special DC twist. The Russian ballet goes local thanks to a Nutcracker Prince in the likeness of George Washington and cherry blossom set designs. Set in historical 1882 Georgetown, you will be dazzled by an impressive roster of dancers and the beautiful Tchaikovsky score.
1 p.m. & 5:30 p.m. |  Tickets
Warner Theatre, 513 13th Street NW, Washington, DC 20004
#MyDCcool Photo of the Week

Make sure to share your DC photos with us using #MyDCcool, and we may feature yours next month!