From halls of power to food halls, historic Capitol Hill is forever hopping with activities and events.
It's the center of the U.S. government, the center of the city and a central hub for locals and visitors alike. Mini neighborhoods like Eastern Market and Barracks Row comprise Capitol Hill, highlighting its unique blend of federal and local diversions. Here are some great ways to explore the neighborhood.
01
See Congress in session at the U.S. Capitol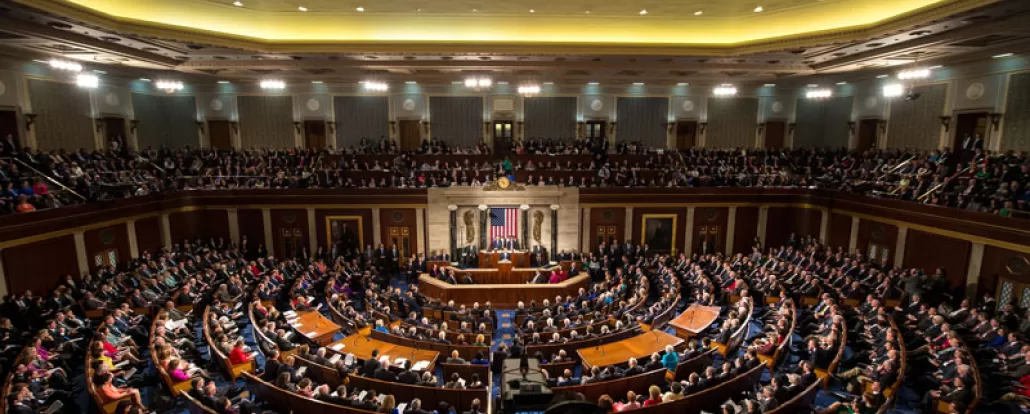 United States House of Representatives Chamber - Tour the United States Capitol in Washington, DC
Catch lawmakers in action with an advance pass from your Senator or House Representative. Find out how to arrange a visit to one of the most recognizable buildings in the world.
02
Take a picnic to the park at the Bartholdi Fountain
On the U.S. Capitol grounds, this flower-packed park with benches surrounds an ornate, fountain with statues of women that once graced the 1876 Philadelphia Exposition. In summer months, it provides a cool respite from the humid temps. In case you didn't know, Frédéric Auguste Bartholdi also designed the Statue of Liberty.
03
Explore a foodie haven near Eastern Market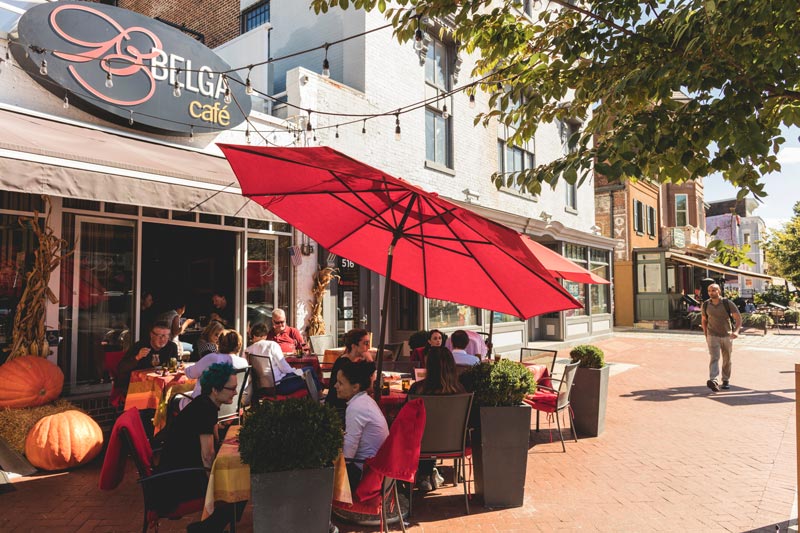 Outdoor patio at Belga Cafe on Barracks Row - Restaurant on Capitol Hill in Washington, DC
Getting hungry? Make Barracks Row, the city's oldest commercial district, your next destination. The strip that runs along 8th Street SE, which gets its namesake from the country's oldest Marine Corps post nearby, has undergone an incredible revival over the last decade. There, you will find everything from quick bites and family-friendly carry-out storefronts to Michelin-starred establishments like Rose's Luxury, Pineapple & Pearls and Little Pearl. Nearby, Ambar is a small plates hub serving Balkan-inspired dishes like a selection of kajmak (cheeses) and a sampling of rakias (fruit-infused brandies). If it's sweets you crave, District Doughnut serves up handcrafted gourmet doughnuts seven days per week. Or slurp down raw oysters – a popular snack since DC's early days (First Lady Dolley Madison was a fan) – at one of the strip's many pubby restaurants.
04
Go to a play at the Folger Shakespeare Library
The intimate playhouse at the world's greatest collection of Bard's works was modeled after an Elizabethan inn, with tiered wooden balconies and carved oak columns. It hosts classical plays, concerts and readings throughout the year.
05
Take a self-guided tour of the Supreme Court of the United States
Line up to take a self-led trip – or maybe hear an argument (when court is in session) – at the 1930s, neoclassical marvel with its bronze, bas-reliefed doors and columned interiors. On days the court isn't in session, docents give short, free lectures on the building and its functions.
06
Continue your patriotic march to the Library of Congress
The largest library in the world makes for a fascinating historical and literary experience in the nation's capital. You will be dazzled upon walking in the door of the Thomas Jefferson Building, as Gilded Age architecture makes its interior a visual masterpiece. Once you're done snapping photos for Instagram, it's time to explore the building's featured exhibitions and tours that bring the library's vast collections to life.
07
Escape into the green world of the U.S. Botanic Garden
Child at United States Botanic Garden on Capitol Hill - Free living museum in Washington, DC
In a glassed-in, Art Deco structure, this living plant museum informs one million-plus visitors per year of the importance of plants to not just human beings, but the earth's ecosystems as a whole. Frequent events include gardening seminars, concerts, cooking classes and more.
08
Hunt for farm-fresh produce, crafts and antiques at Eastern Market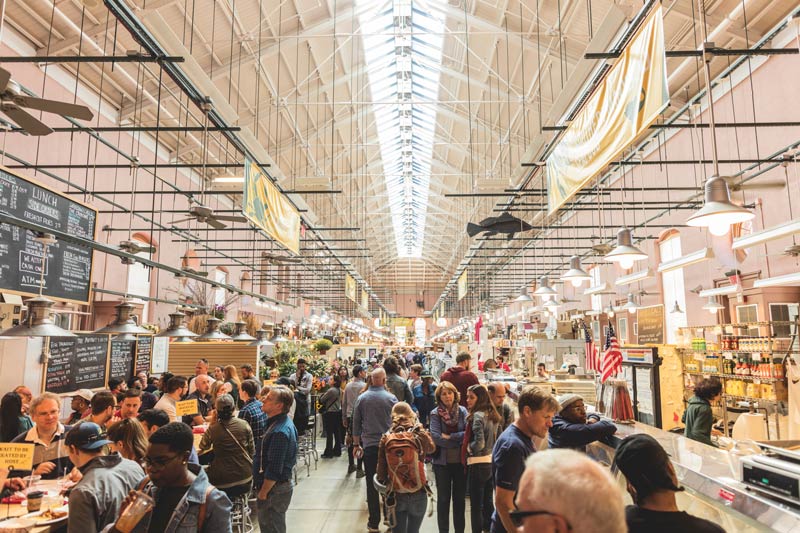 Eastern Market on Capitol Hill - Indoor Market and Food Hall in Washington, DC
Join the throngs of stroller-pushing locals and young hipsters outside and adjacent to Eastern Market on Saturdays and Sundays, when a farmers' market and crafts fair takes over streets and sidewalks. Among the scores: locally made jewelry, soap and vintage clothing.
09
Sneak away to the summerhouse on the U.S. Capitol Grounds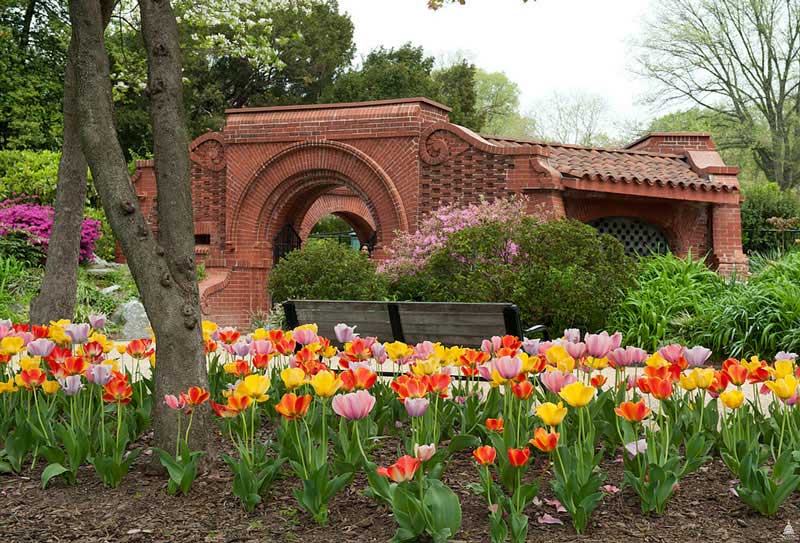 U.S. Capitol Grounds Summerhouse on Capitol Hill - Attractions in Washington, DC
On the West Lawn of the U.S. Capitol, this open-air, redbrick, hexagonal structure was completed in 1880s and designed by Frederick Law Olmsted. Arched doorways, seating and a tiny, burbling grotto lure romantics and solitude seekers.
10
Feast on sustainable Southern cooking in a boutique hotel
It's not hard to be full when dining on Capitol Hill. Art and Soul provides Southern hospitality with down-home cooking and sustainably sourced ingredients for a sophisticated dining experience. After dinner you'll want a comfy (and close) place to rest your head. The Liaison Capitol Hill DC offers a boutique experience with a rooftop lounge and pool, and its lobby connects directly to Art and Soul.
11
Down a pint with lawmakers and lobbyists at the Dubliner Pub
12
Revel in a patriotic parade at the U.S. Marine Barracks
Friday nights at 8:45 p.m. from May through August, U.S. Marine marching units and the President's Own U.S. Marine Band perform precision drills and all-American music. Tickets are free, but reservations are required.
If you can accomplish all this, you'll have successfully enjoyed much of the Capitol Hill experience. Check out some nearby neighborhoods to explore, like Capitol Riverfront or NoMa.