This free summer festival on the National Mall is a can't-miss family-friendly event in the nation's capital.
Each summer, the National Mall plays host to the Smithsonian Folklife Festival, a massive, kid-friendly celebration of cultures across the globe. The 2020 edition takes place from June 24-28 and July 1-5, and the festival will focus on Brazil and the United Arab Emirates. Read on to learn what activities and offerings await as you plan your excursion to this only-in-DC festival.
01
Bring all your friends – the Smithsonian Folklife Festival is free!
Like the best things in life, the Smithsonian Folklife Festival is free to enjoy. The extravaganza is easy to find as well, as it's centrally located on the National Mall. The festival's general info page will come in handy as you plan your multicultural adventure.
02
Take your taste buds to new places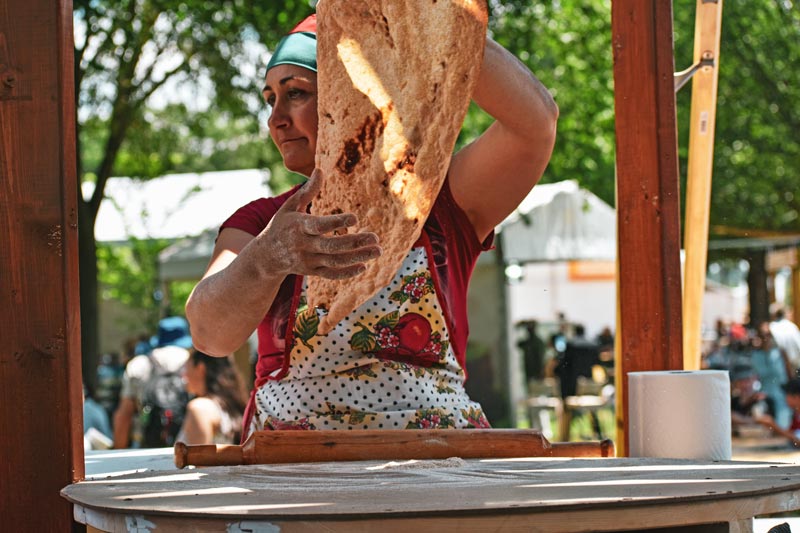 Woman making traditional bread at the Smithsonian Folklife Festival - Free summer festival on the National Mall in Washington, DC
Every year, this festival comes through with delicious eats. The 2019 edition will feature at least 20 local food trucks showcasing their latest offerings. For those over the age of 21, the Festival Bar will offer local beer, cider and mead generously provided by businesses in DC, Maryland and Virginia.
03
Learn about the social power of music
The festival focuses on raising all types of cultural awareness, including live musical demonstrations. Festival-goers will be able to join musicians and dancers for free performances and classes, learn about different musical instruments and so much more. 
04
Enjoy a schedule packed with family-friendly activities
The festival is family-centric each and every day, but look for specific programming for youngsters on weekends. Find more details about family day as they become available.