Visit this vibrant culinary haven in the District's NoMa neighborhood for a variety of delicious food.
Welcome to Union Market, DC's hippest feasting ground, a revived mid-century produce- and meat-selling bazaar that holds food stalls, informal restaurants and kitchenware boutiques in NoMa. We're focusing on some of the tastiest experiences to be had at the hub, which is open every day of the week except Monday.
01
A jammin'-worthy sammy and a loaded drink at Buffalo & Bergen
Yep, that's a Bob Marley reference and yep, the sandwiches at Buffalo & Bergen JAM. Try the mountain shiksa, packed with homemade lox, maple pecan cream cheese cheese and bacon; this dynamo is served up on an egg bagel (or knish, if you prefer). Looking for a choice beverage? Try the Lox'd and Loaded, a spicy bloody mary garnished with an everything bagel featuring lox, cream cheese, capers and red onion. Bro.
02
Unlock unreal meat flavors at Red Apron Butchery
Pretty simple, right? Of course, you have plenty of choices at Red Apron, with nearly 80 artisanal products to choose from. This spot has redefined the butchery, using only natural, hormone- and antibiotic-free beef, pork, lamb and poultry. Sandwich selections are fierce, including the Porkstrami, which pairs quite well with fries.
03
Savor a large platter at Rappahannock Oyster Bar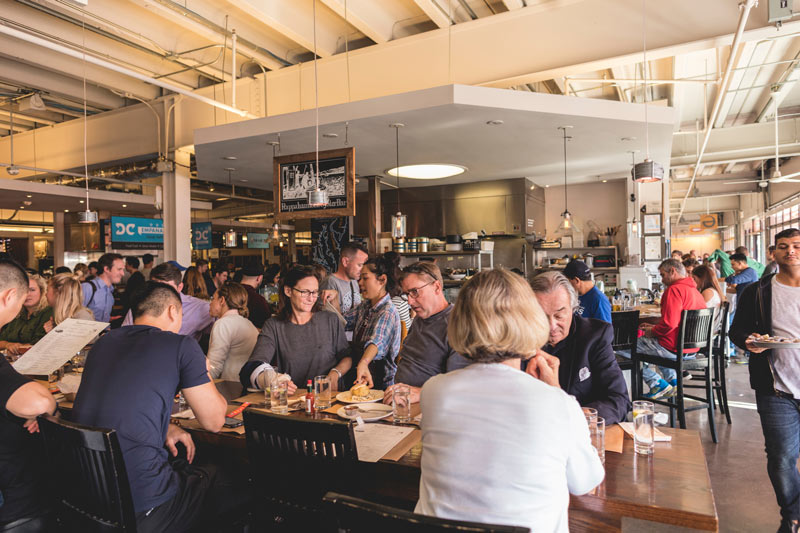 Rappahannock Oyster Bar
As one of the few oyster bars to be enjoyed in the District, Rappahannock Oyster Bar has maintained a comfy home at Union Market, satisfying all comers with pristine oysters and clams from nearby Virginia. The large platter gets you 12 mixed raw oysters and a half-dozen raw clams, perfect for sharing with a friend as you sip on white wine or a local draft from Devils Backbone.
04
Try a poke bowl at The District Fishwife
The seafood party continues with The District Fishwife, a 440-square-foot fish market owned and operated by a husband and wife team. The Fishwife offers both fresh fish and prepared meals, and the poke bowl is one of its most oft-praised of the latter. The Hawaiian fish is prepared with a spicy version and a more traditional version teaming up with warm rice, seaweed salad, ginger and carrot for a flavor explosion.
05
Enjoy a different kind of taco at TaKorean
Asian-style tacos? Sign us up. TaKorean started as a food truck and is now a Union Market favorite. Korean-style proteins (including beef, chicken, pork and tofu) and a soft-corn tortilla make up your base, unless you want to roll with a slaw or rice bowl. Topping options are mouthwatering, including cool lime crema, Sriracha chili sauce and salsa roja. TaKorean also does TaKo Tuesday, when you can get their creations for just two bucks each.
06
See what all the dosa fuss is all about at DC Dosa
Founded by Priya Ammu, native of Bombay, India, DC Dosa doles out South Indian lentil crepes that can be stuffed with ingredients of your choosing. The street-food staple now has a strong presence in DC thanks to Ammu, who has been wowing taste buds at this Union Market locale. Browse the menu and daydream on all of the hearty combos, then find your way to this fast-casual gem.
07
Discover inventive sushi at O-Ku
Located just down the street, O-Ku ("Oak" in Japanese) wants you to get excited about sushi. While you'll be able to enjoy traditional dishes nigiri, this hot spot rethinks what sushi can be with the creations like the Tasmanian king salmon with golden tomato confit. The restaurant's robata grill also churns out wagyu skirt steak and chicken yakatori.
08
Find falooda at Toli Moli
Toli Moli specializes in falooda, a dessert that is prevalent throughout Southeast Asia, the Middle East and the Indian subcontinents. The shop's healthy and flavorful take on falooda is turning it into a DC sensation as well. The royal falooda is the most popular variation: a mix of pomegranate-ginger jellies, rice noodle pudding, vanilla ice cream, rosewater syrup and a rotating cast of seasonal items. If that wasn't appetizing enough, Toli Moli offers noodle salads and snacks, too.
09
Dig in to all the meats at St. Anselm
Former Top Chef finalist Marjorie Meek-Bradley has formed a dynamic team with restaurateur Stephen Starr (of Le Diplomate fame) to bring Union Market-goers the finest grilled dishes at St. Anselm. This sleek, 7,000 square-foot hot spot can be found just across the street. Start your meal off right with grilled oysters dressed in smoked herb butter or clams before choosing any number of grilled meats (think: ribeyes, flat irons, New York strips).
10
Get Creole'd at Puddin'
Spark the Southern in your palate with a visit to Puddin', which is known for churning out some of the best shrimp 'n' grits in the District. Owner/chef Toyin Alli started out as a street food vendor at Eastern Market, but her "divine comfort food" is now served through the Union Market location, two food trucks and other local markets. Beyond the S'N'G, Alli whips up amazing takes on chicken 'n' beef sausage gumbo, po' boy sandwiches and another crowd favorite, Brown Butter Bourbon Bread Puddin'.
11
Say hello to the weekend with a bagel from Neopol Savory Smokery
A trip to Neopol Savory Smokery is a great idea any time, as the shop offers gourmet foods, including artisanal smoked salmon, Tuesday through Sunday. However, step inside on a Saturday or Sunday morning for one of its outstanding bagels. We're getting hungry just listing the choices: smoked salmon with cream cheese, tomato, capers and red onion; smoked whitefish salad with artisan greens, tomato and red onion; smoked bacon and tomato with cream cheese and red onion; we'd go on, but we imagine you've set a calendar appointment in your phone already.
12
Take in up to six dazzling courses at Masseria
Chef Nicholas Stefanelli's Michelin-starred Italian restaurant presents one of the city's finest dining experiences. With an menu consisting of four to six courses, each plate is equipped with loads of Italian flavor and pristine culinary style. Stefanelli's menu guides you along the Italian coast, showcasing classic pastas, seafood and rare meat dishes like rabbit and squab. You're in for an adventure.
13
Rock a lobster taco or fried oysters at Bidwell
Bidwell is a Southern-inspired home run of a restaurant, dealing in comfort food with more dazzle than you'd come to expect. The restaurant, which grows most of its produce on the market's rooftop, was named a Bib Gourmand honoree in DC's Michelin Guide. A lobster taco, served with avocado-tomatillo salsa, is a fantastic shareable dish to kick off a meal, as are the crispy fried oysters with green chile buttermilk dressing. Of course, you can also get your comfort from herb-roasted half chicken or grilled hanger steak.