Your guide to the best restaurants in the heart of the nation's capital
Downtown DC buzzes with activity all day long and well into the evening with its mix of sophisticated shopping, dining and cultural offerings. The neighborhood's proximity to the White House has also made it a prime destination for politicos and tourists alike. For foodies, you'll find everything from power dining restaurants to see-and-be-seen hot spots to places for a perfect pre-theater meal. 
A New Type of Hotel
While Eaton Washington DC is technically a 200-plus room hotel, it defies the standard definition. It's also home to a cinema, a progressive-minded coworking space and four unique food and drink establishments. Acclaimed DC chef Tim Ma has crafted an menu out of his experience as the son of Chinese immigrants growing up in Arkansas at American Son, Eaton's flagship restaurant open all day and late night. The thoughtful seasonal menu includes highlights like the confit chicken banh mi and a very shareable spaghetti squash ssam. If it's rooftop vibes you're looking for, head to Wild Days for Asian-inspired tacos (short rib tacos with kimchi and puffed rice, anyone?) best paired with live music. There's also the highly-Instagrammable Kintsugi – a coffee shop-juice bar hybrid – and Allegory, a sleek, dimly-lit cocktail bar with an extensive drink list.
Pre-Theater Drinks and Dining
Washington, DC has a robust theater scene with dozens of performing arts venues around the region. Downtown alone is home to three marquee playhouses: historic Ford's Theatre, Warner Theatre and National Theatre. With those three powerhouse players right downtown, a popular night out for Washingtonians is dinner and a show. If you've got tickets, there are a number of great pre- or post-theater-friendly restaurants within walking distance.
Old Ebbitt Grill is a tourist attraction on its own with its presidential roots and century-old history. The restaurant was founded as a saloon in 1856 and since then has moved and expanded, serving drinks to many presidents along the way. Today, it's a popular spot for both DC's movers and shakers and out-of-towners. Pop in for a pre-theater meal to check off two must-dos in DC.
Occidental Grill & Seafood and The Hamilton are also popular spots for theater-bound diners. The Occidental is located just steps from the White House, while The Hamilton offers a great late-night menu (and has a live music venue of its own in its basement). And Belgian chef Robert Wiedmaier's Brasserie Beck and Central Michel Richard both offer prix-fixe theater menus at their award-winning restaurants. 
Power Dining
The country's most famous address, 1600 Pennsylvania Avenue, sits just outside DC's downtown border, making the neighborhood a big draw for chefs catering to the city's power players. Restaurateur Ashok Bajaj stops in nightly to welcome his guests to The Oval Room, a Washington institution that has played host to both former presidents Bill Clinton and George H.W. Bush, along with a long list of other notables. Former President Barack Obama and Michelle Obama made the one-block trip from the White House to Equinox, where chef Todd Gray rose to fame for sourcing only local ingredients. The former first lady has also dined nearby with friends at Joe's Seafood, Prime Steak & Stone Crab, Richard Sandoval's Toro Toro and Ottoman Taverna.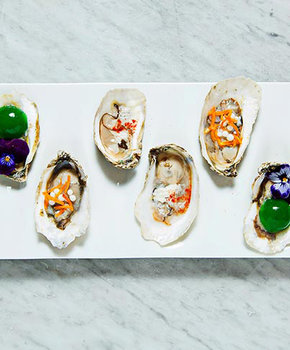 And don't miss your chance to eat at Mirabelle, a fine dining French-American brasserie. The establishment has earned plenty of praise for mouthwatering dishes like the glazed boudin blanc and the Belleburger, a dish completed by Madeira caramelized onions and melted gruyere with the option of being served "wet" or "dry."
Inside The Jefferson Hotel, Plume, the only 5 Star-rated restaurant by Forbes in Washington, DC, is a bucket list experience for many Washingtonians. The fine dining spot, which has received a Michelin star, features a multicourse menu inspired by the hotel's namesake's Monticello garden – and the cheese trolley treats are not to be missed! And if you can get up early enough for a breakfast reservation at The Lafayette inside The Hay-Adams Hotel, you're almost guaranteed to spot a senator or representative talking shop inside The White House-adjacent power restaurant.
With a first-floor tavern that dishes out bar fare and local oysters and an upscale steakhouse that features an extensive a la carte menu on the second level, Wisconsin-based RARE Steakhouse pairs Midwestern charm with a first-rate dining experience. Mouthwatering cuts range from local grassfed rib eyes to Wagyu strips and even a 50 oz. bone-in chop steak for two. You'll also find the perfect pairing on the restaurant's carefully curated wine list.
If a menu-less, 20-course dining experience suits your taste, look no further than the Michelin-starred Sushi Nakazawa. This New York import inside the ornate Trump International Hotel turns eating into an adventure with freshly caught fruits of the sea in the style of omakase, a Japanese phrase that roughly translates to "I'll leave it up to you."
If your power lunch requires some wine or bubbly, Fabio and Maria Trabocchi's Sfoglina offers an extensive list of vino, an ideal complement to its daily house-made pastas.