Washington, DC is a top choice for meeting planners looking to leverage the city's local sustainable transport options – including public transportation, walking and cycling – to eliminate shuttles for a meeting or convention.
With 40-plus hotels within walking distance of the Walter E. Washington Convention Center, the ease of commuting within the nation's capital is a key benefit for business travelers. DC sets the scene for sustainable commuting. In fact, 58 percent of commuter trips in DC are by bike, walking or public transit, according to Buildings Magazine. When planning your next meeting, consider these five eco-friendly options that will save you the added expense of a shuttle.
01
Walking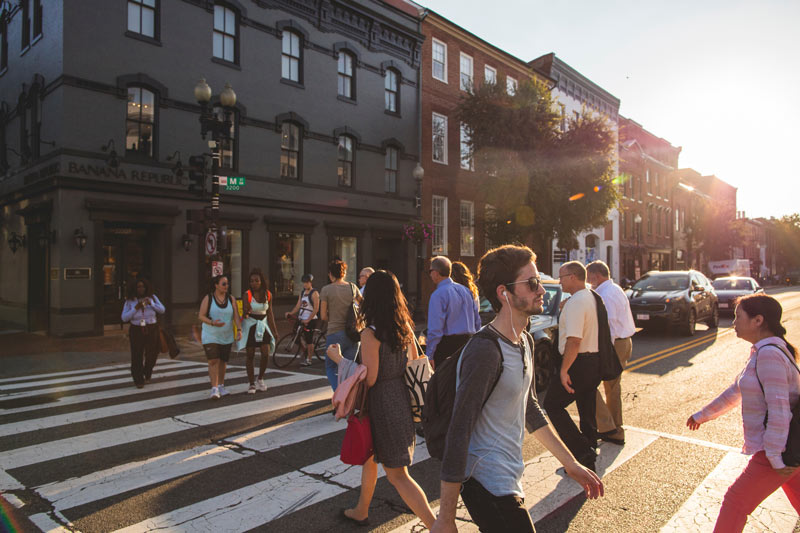 Walking across M Street NW in Georgetown - The best ways to get around Washington, DC
With an abundance of hotels near the Walter E. Washington Convention Center, you can always head to your meeting by foot. This is the most inexpensive method of commuting that also happens to be eco-friendly and great for your health. The American Geophysical Union recently hosted 28,000 attendees for its 2018 fall meeting in DC without the use of a shuttle.
"We selected Washington, DC in large part because the city is so walkable and has excellent public transportation," said Lauren Parr, vice president of meetings, American Geophysical Union (AGU). "AGU never shuttles for large meetings as it's a carbon and financial expenditure that we don't wish to incur, and we had excellent feedback from our attendees on what a great walking city DC is. DC was a great choice for AGU and it's a great choice for any planner looking to leverage the local transportation options and eliminate shuttles."
02
Cycling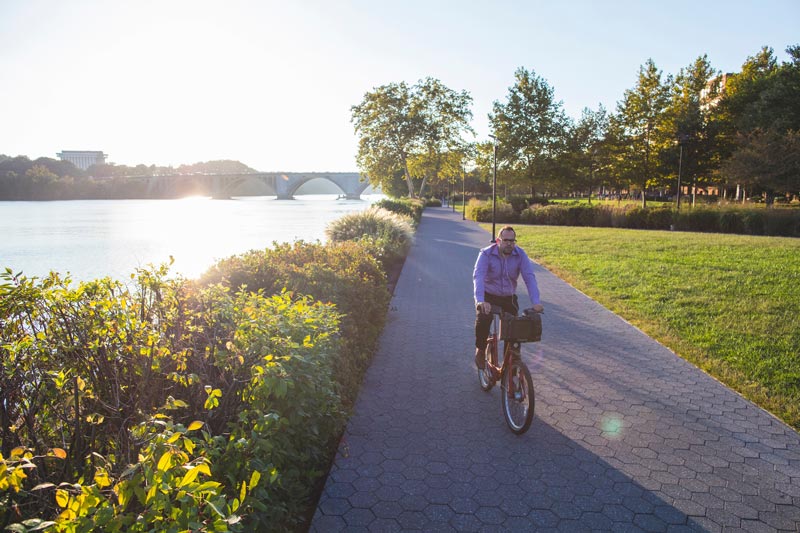 Man commuting on Capital Bikeshare bike from work - Transportation options in Washington, DC
Washington, DC was the first city in North America to launch a bikeshare system, which now has more than 4,000 bikes and 500 stations. Capital Bikeshare is one of the most popular ways to commute with a single trip costing only $2 and a 24-hour pass for $8. The first 30 minutes of each trip is free, with each additional half hour incurring a fee. The ease of getting and returning a bike at one of hundreds of stations is convenient for meeting attendees who are up for a bit of cardio and an eco-friendly transportation method.
03
DC Circulator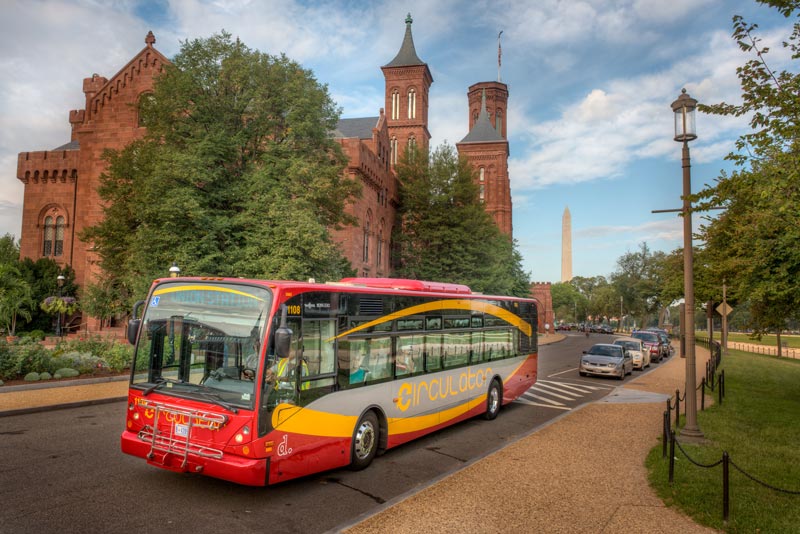 Sam Kittner
The DC Circulator is free for all riders along six specific routes designed for easy-on, easy-off access at points of interest throughout the District. The Circulator services Adams Morgan, Dupont Circle, Georgetown, Woodley Park, U Street and Capitol Hill. The bus even offers a dedicated National Mall route for access to DC's plethora of free monuments and memorials. Buses run every 10 minutes.
04
Metrorail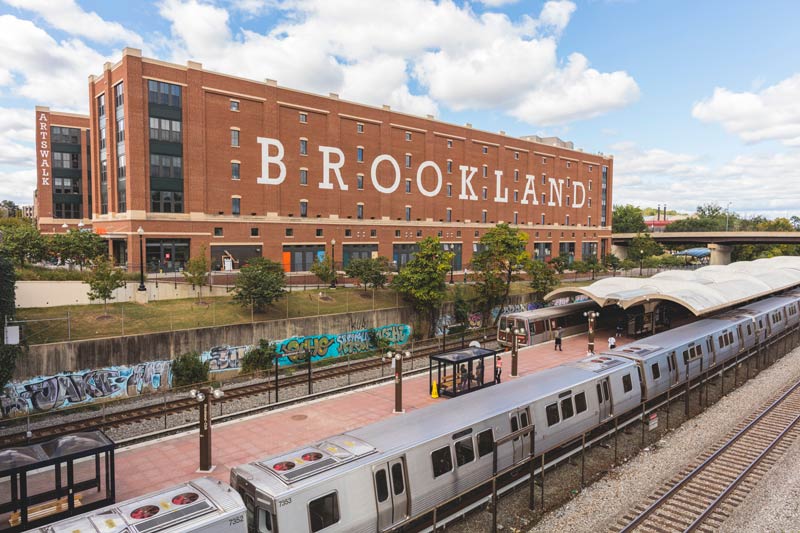 WMATA Metrorail train at the Brookland Metro Station - Transportation options in Washington, DC
With the second-largest subway system by ridership in the U.S., Washington, DC is known for its efficient and clean Metro operations. Washington Metropolitan Area Transit Authority (WMATA) operates the Washington, DC Metrorail and Metrobus systems. Locals and visitors alike utilize SmarTrip® cards – permanent, rechargeable cards used to pay Metrorail and Metrobus system fares. Using a SmarTrip® card is fast and easy. The Convention Center has a dedicated Metro station serviced by the yellow and green lines, and many hotels are conveniently located near Metro stations or bus routes. Metro operates from 5 a.m. to midnight on weekdays and from 7 a.m. to midnight on weekends.
05
Metrobus
As an alternative to traditional diesel fuel, buses that run on compressed natural gas (CNG) produce roughly 45 percent less hydrocarbons, making them an attractive option for sustainable meetings. DC's fleet has more than 1,400 buses operated by the Washington Metropolitan Area Transit Authority that run on a version of alternative fuel that is less harmful to the environment, including CNG, advanced technology diesel fuel, and ultra-low sulfur diesel fuel.